As a result of the following picture appearing in the Oxfod Mail we know a bit more about the club beginings.
Mr Pat Wright remembers when 19 people met at the garage owned by C.Cox at 38 Cowley Road in 1937 to start the club. They affiliated the club to the ACU and by the end of the first year membership had risen to 33. The first President of the club was the international trials rider Mr. K.M. Hurst.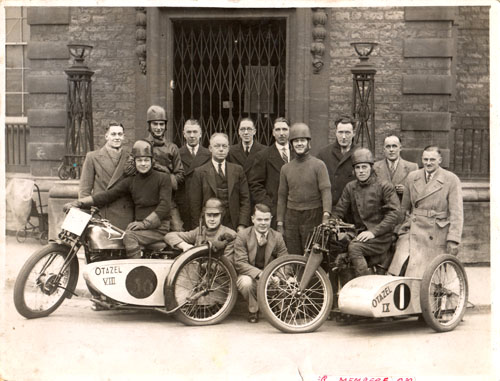 Oxford Speedway club 1937. Few names are known in this early pic - any ideas please contact Ken.

It was taken outside Kings in New Road. Bob Faulkner founder of Faulkner m/c Oxford is 3rd from right, back row. Edward Mander is 4th from right (tie) and Froggy French kneeling on the right. Left hand rider is Ron Amey. On far left is Stanley Hailwood owner of the bikes.
Thank to Mike Keep, former sidecar racer, who let us know that the rider sitting on the sidecar outfit (No 1) is John Browne.  John lived in Carterton and was president of the Southern Centre Grasstrack Association.


The club broke up for the 1939 -45 war but was reformed in May 1945.
Among those who have been members of the club are Mike Halewood, who rode under the club colours when he wont ACU's Pinard Trophy for the most outstanding rider under the age of 21.
Others have been John Avery whose many trophies include British Scrambles Champion in 1952 and winner of the Swedish Grand Prix in the same year and David Curtis, British Scrambles Champion for several years.
A couple of the clubs more recent stalwarts, Ken O'Brien and Richard Harbud.

Photo  shows Kevin McCullagh, Brian Valder and Gordon Pusey before the start of an inter-centre team trial at Buxton Derbyshire 1973.